XLIX Congress of the Physical Chemistry Division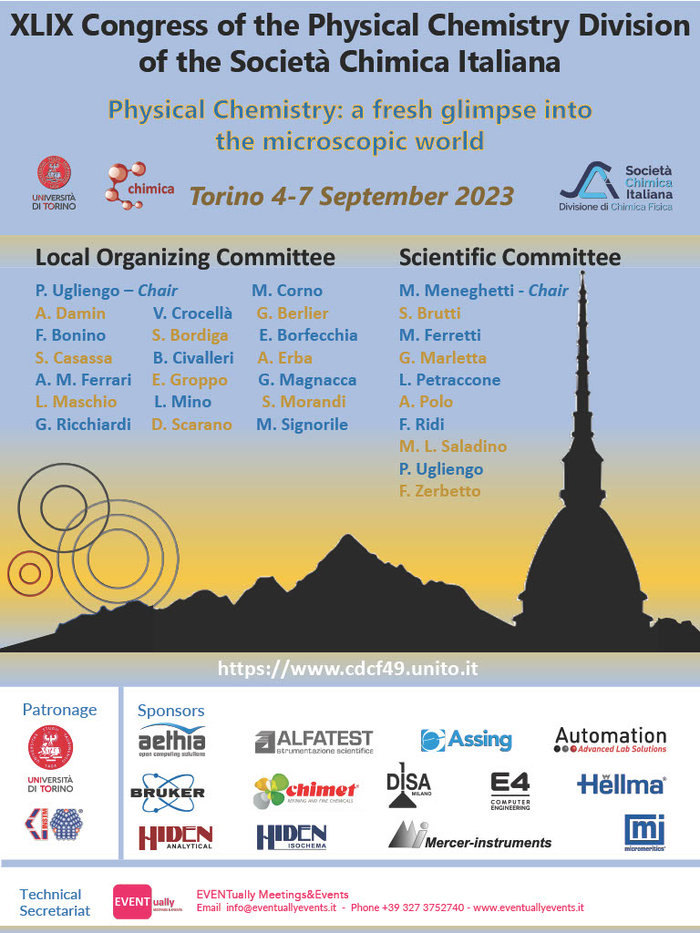 Welcome to the 49th National Congress of Physical Chemistry (XLIX CNCF, Turin 2023), promoted by the Physical Chemistry Division of the Società Chimica Italiana. The Conference, organized by the Physical Chemists of the University of Turin, will be hosted by the Department of Molecular Biotechnology and Health Sciences.
The aim of the conference is to show how the physical-chemical approach, based on a multi-scale view of matter, offers fundamental contributions, through experimental, theoretical and computer modeling methodologies, in fields ranging from astrochemistry, biochemistry, catalysis, soft-matter to materials science (to name but a few). The scientific program will be divided into six thematic sessions, introduced by plenary lectures by researchers who will demonstrate the synergy between experimental and theoretical methods in understanding the fundamental mechanisms of chemistry:
| | |
| --- | --- |
| T1. Physical chemistry of materials | T2. Physical chemistry of soft matter and life science |
| T3. Physical Chemistry of energy production and storage | T4. Theoretical and computational chemistry |
| T5. Physical Chemistry approach to catalysis | T6. Reactive processes in gas, liquid and solid phases |
Keynote, oral and poster contributions are welcome. Activities open to the public, dedicated to topics of general interest, will be offered during the conference.
Important deadlines
15th January 2023: Opening of Abstract submission
1st May 2023: Contribution submission deadline
10th May 2023: Premio Giovanni Semerano application deadline
15th May 2023: Bursary to young participants application deadline
10th June 2023: Announcement of the selected oral contributions
15th July 2023: Deadline for standard registration and standard registration fee