I GIOVANI E LA CHIMICA IN ABRUZZO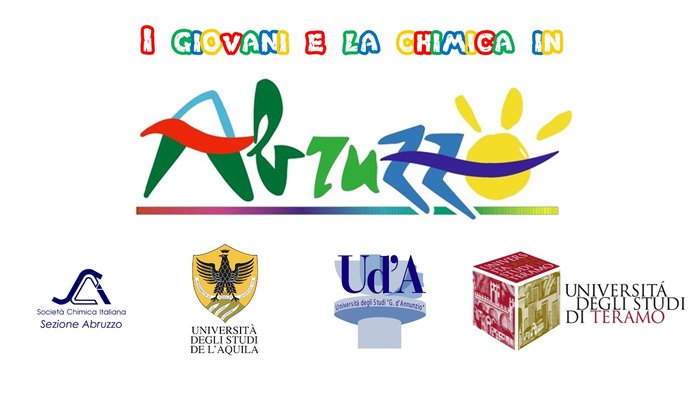 Workshop dei giovani ricercatori chimici abruzzesi
12 - 13 luglio 2022 ore 8.50 - 13.00
L'evento si svolgerà interamente on-line sulla piattaforma Microsoft Teams. Gli interessati a partecipare al workshop sono pregati di inoltrare richiesta per email al seguente indirizzo francesco.epifano@unich.it per ricevere il link della riunione
Le iscrizioni, gratuite, si chiuderanno il 17 giugno 2022
Saranno accettati solo contributi orali brevi (alla chiusura delle iscrizioni verrà comunicato il tempo concesso a ciascuna presentazione)
La lingua del Workshop è Inglese/Italiano, a scelta del relatore.
Per le iscrizioni e l'invio dell'abstract compilare la scheda allegata (comprensiva di template) attenendosi scrupolosamente alle istruzioni in essa contenute:
Abstract_WorkShop Abruzzo - 2022.doc
Interverranno al workshop in qualità di relatori
Prof. Antimo GIOIELLO - Dipartimento di Scienze Farmaceutiche, Università di Perugia
"STREAMLINING SYNTHESIS AND MEDICINAL CHEMISTRY BY CONTINUOUS FLOW TECHNOLOGY"
Dott. Roberto LEONARDI - CEO, The Graphene Company Srl, Milano
"PRODUZIONE INDUSTRIALE DI GRAFENE E ALTRI NANOMATERIALI PER UN MONDO SOSTENIBILE"
Dott. Mario LI VIGNI - Valagro Spa, Atessa (CH)
"SIAMO CHIMICI, CIOE' CACCIATORI...PERCORSI DI RICERCA E DI CONQUISTA NEL MONDO DELL'UNIVERSITA' E DELL'INDUSTRIA"
COMITATO SCIENTIFICO ED ORGANIZZATORE
Prof. Francesco EPIFANO (Chieti) - Chairman
Prof. Armando CARLONE (L'Aquila)
Prof. Marco CHIARINI (Teramo)
Prof.ssa Antonella FONTANA (Chieti)
Prof. Fabio MARINELLI (L'Aquila)
Dr.ssa Serena FIORITO (Chieti)
PROGRAMMA
12 Luglio 2022

9.00 – 9.15 Apertura dei lavori

Chairperson: Francesco Epifano

9.15 – 9.45

KN1

Antimo Gioiello (Università di Perugia)

Streamlining synthesis and medicinal chemistry by continuous flow technology

Chairperson: Armando Carlone

9.45 – 10.00

OC1

Lucia Palumbo (Università "G. d'Annunzio" di Chieti-Pescara)

An easy way for the simultaneous hydrolysis, pre-concentration, and chemical stabilization of crocetin from saffron powder

10.00 – 10.15

OC2

Martina Foschi (Università dell'Aquila)

UV-Vis Spectroscopy and chemometrics for the detection of expired saffron

10.15 – 10.30

OC3

Federico Fanti (Università di Teramo)

Determinaton of derivatized short chain fatty acids in faeces by means of LC-MS/MS

10.30 – 10..45

OC4

Nicola Pinna (Università di Perugia)

Extraction of carotenoids from pumpkins of different varieties by using innovative techniques

10.45 – 11.00

Coffee break

Chairperson: Serena Fiorito

11.00 – 11.15

0C5

Angela Tartaglia (Università "G. d'Annunzio" di Chieti-Pescara)

Fabric phase sorptive extraction (FPSE) as an efficient sample preparation platform for the extraction of antidepressant drugs from biological fluids

11.15 – 11.30

OC6

Francesco Ferella (Università dell'Aquila - INFN)

Chemistry and mass-spectrometry applied to Gran Sasso National Laboratories RENOIR radiobiology experiment: mineralization and characterization of different sample matrices

11.30 – 11.45

OC7

Rosalba Vitagliano (Alma Mater Studiorum Università di Bologna)

Miniaturised blood samples for cariprazine analysis: an analitical approach based on volumetric absorptive microsampling

11.45 – 12.00

OC8

Chiara Collevecchio (Università "G. d'Annunzio" di Chieti-Pescara)

Efficient removal of tartrazine from aqueous solutions by solid sorbents

Chairperson: Antonella Fontana

12.00 – 12.15

OC9

Giuliana Giorgianni (Università dell'Aquila)

Organocatalyzed Michael addition to nitroalkenes via masked acetaldehyde

12-15 – 12.30

OC10

Luciano Mangiapelo (Università di Perugia)

Optimization of chlorogenic acid extraction from potato by-products

12.30 – 13.00

KN2

Roberto LEONARDI (The Graphene Company Srl, Milano)

Produzione industriale di grafene e altri nanomateriali per un mondo sostenibile

13 Luglio 2022

Chairperson: Fabio Marinelli

9.00 - 9.30

KN3

Mario Li Vigni (Valagro Spa)

Siamo chimici, cioè cacciatori...percorsi di ricerca e di conquista nel mondo dell'Università e dell'Industria

9.30 – 9.45

0C11

Lorenza Marinaccio (Università "G. d'Annunzio" di Chieti-Pescara)

A comparative study on phytochemical fingerprint of two diverse Phaseolus vulgaris var. Tondino del Tavo and Cannellino bioextracts

10.00 – 10.15

OC12

Samanta Moffa (Università "G. d'Annunzio" di Chieti-Pescara)

Design of targeted polymeric nanoparticles for human breast cancer cell line

10.15 – 10.30

OC13

Enrica Rosato (Università "G. d'Annunzio" di Chieti-Pescara)

Determination of anions in postmortem samples for forensic evaluation

10.30 – 10.45

OC14

Ina Varfaj (Università di Perugia)

Enantioseparation of two anti-inflammatory chiral sulfoxides with cellulose-based chiral stationary phases under polar-organic conditions

10.45 – 11.00

Coffee break

Chairperson: Marco Chiarini

11.00 -11.15

OC15

Fabiola Eugelio (Università di Teramo)

Determination of quinolizidine alkaloids in Lupinus albus L. by means of HPLC-MS/MS

11.15 -11.30

OC16

Alessandra Olarini (Università di Modena e Reggio Emilia)

Chemometric approaches in hyperspectral imaging

11.30 – 11.45

OC17

Selene Fiori (Università di Teramo)

Biochar/Transition Metal Dichalcogenides-based nanocomposites for electroanalytical purposes

11.45 – 12.00

OC18

Daniele Tanzilli (Università di Modena e Reggio Emilia)

Improve the industrial process understanding through chemometrics

12.00 – 12.15

OC19

Ilaria d'Agostino (Università "G. d'Annunzio" di Chieti-Pescara)

The impact of increasing structural rigidity on benzenesulfonamide small molecules in V. cholerae carbonic anhydrases inhibition: design, synthesis, computational and enzymatic studies

12.15 – 12.30

OC20

Annalisa di Rienzo (Università "G. d'Annunzio" di Chieti-Pescara)

Targeting ESKAPE pathogens with novel cinnamic acid-based antimicrobials

12.30 -12.40 Chiusura dei lavori