Fortuna PONTE
Fortuna PONTE
Divisione di Chimica Teorica e Computazionale
CONSIGLIERE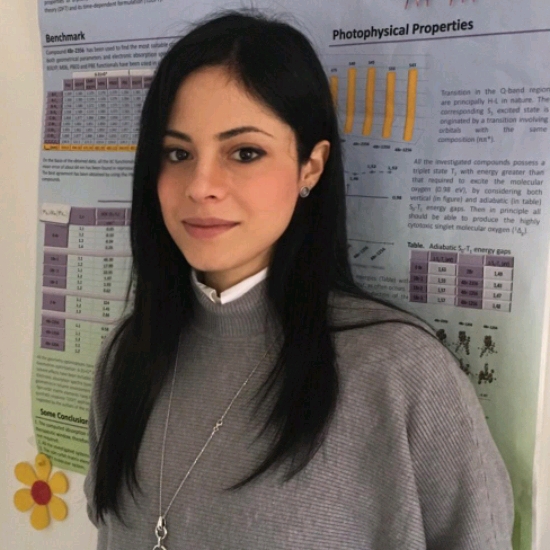 Fortuna Ponte received her undergraduate degree in Chemistry in 2016 (Mark 110/110 cum laude) from the University of Calabria (UNICAL), Rende (CS) Italy. That same year she was appointed as a PhD student in "Translational Medicine", under the supervision of Prof. Emilia Sicilia.
Her research project focuses on the rational design and characterization of metal-containing new anticancer drugs for chemotherapy and photodynamic therapy applications by means of DFT in the PROMOCS laboratory of the Department of Chemistry and Chemical Technologies - University of Calabria. She has spent a visiting period in the Computational Science Research Group at the University of Italian Switzerland (Faculty of Informatics) in Lugano, under the supervision of Prof. Michele Parrinello. She was a teaching assistant in the field of "General Chemistry". She was a member of the organizing committee of some events and she attended conferences and workshops for professional development. She has participated in soft skills courses to improve scientific creativity,personal and social capability.
She is a board-member of the Young Group of the SCI, where she represents the Theoretical and Computational Chemistry Division. During the 3 years, she would like to help in organizing some events in SCI particularly those related to presentations of the research work of different members and groups helping young researchers to get more exposed and updated with the ongoing research topics. In addition, she would like participating to some gathering events that help the SCI community to find opportunities of research collaborations as well as research job positions.